This entry really belongs to last May, when we were on holiday in England and visited ancestral homes in the south-west of England. My father's father's family had come from Somerset and Devon, and my mother's father's family had come from Cornwall, and we spent five days in May visiting some of the places they had lived, and meeting living relatives.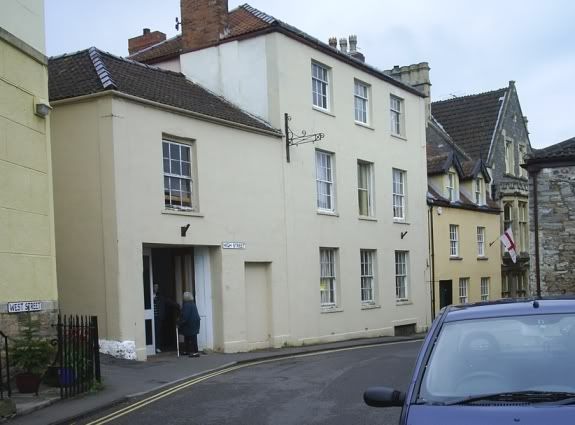 We took my second cousin Mary Jane Conway, who lives in Bristol, to Winscombe, Somerset, where our great great great grandparents Simon Hayes and Rachel Allen were married in 1814, and took photos of the church, and got copies of the parish magazine. The Church was quite a way from the centre of the village. We then went to Axbridge, not far away, to see where our great grandfather William Allen Hayes had spent the latter part of his life as landlord of the Red Lion pub, after retiring as a builder in Bedminster. My grandfather Percy had grown up in Axbridge before coming to South Africa in the 1890s.

The Red Lion is no longer a pub, but is now a private house. Nevertheless, cousin Jane, bold as brass, knocked on the door and asked if we could have a look inside. It is now owned by an American couple, David and Juliet Maclay. David's family were from Boston, and he does historical restorations, and he was restoring the building, and offered us a cup of tea and showed us the library he had built upstairs, which was very kind of him to do for absolute strangers. One of the most interesting things was a kind of icon of Ronald Reagan in what had been the bar. Reagan was making a speech, with Henry Kissinger and others floating round his head like demons to tempt him, and side panels showing American atrocities in various parts of the world.


We went to the square, and took some photos of the church, and a woman was coming to lock it just as we got there, but let us look at it. She said she locked it because she was the one who lived closest. We drove up the Cheddar Gorge, and then took Jane home.

The next morning we drove down the Cheddar Gorge from the top, and took a last look at Axbridge, There was a field full of Somerset sheep, which seemed fatter than the Merinos at home, and at the other side of the field there appeared to be two llamas lying down, but they were so far away we could not see them very well. We called at Wookey Hole, but did not go in to the caves. My wife Val's family had a tradition of calling the navel a "Wookey Hole", and it was close enough to Axbridge to suggest a sort of ancestral umbilical connection. But her family were from Cumberland, and so it's a bit of a mystery why they called a part of the body after a Somerset cave.

We drove through Glastonbury, and saw the Tor, which was not nearly as numinous and mysterious as it has been touted to be, and the whole place looked fairly ordinary and rather disappointing, after all we had read about it in novels, academic papers and the like.





But we then drove down the narrow lanes lined with basket willows on the Somerset flats, and that did seem numinous and mysterious and quite otherworldly. The basket willows were quite different from the weeping willows we have back home in South Africa, and seemed like guardians of the road. We turned off to North Curry, where my great great great grandfather Simon Hayes was born. We went to the church, and that was too numinous and mysterious, and had a tremendous atmosphere. The sky was overcast, and it was quite chilly, and there were many different kinds of birds calling, the harsh cries of crows, and some that sounded like owls, all alien and unfamiliar. The church with its octagonal tower was grey and crumbling and covered with lichen, and looked like an abandoned building from Elidor, something from another time and place. Inside it was also impressive, though in a different way. It seemed to be a lively and active parish. There was an ikon of St Peter & St Paul, and we lit candles in front of it. We had lunch in the Bird in Hand pub, ham eggs and chips, which was expensive, but much better than English food as I remembered it from 40 years ago.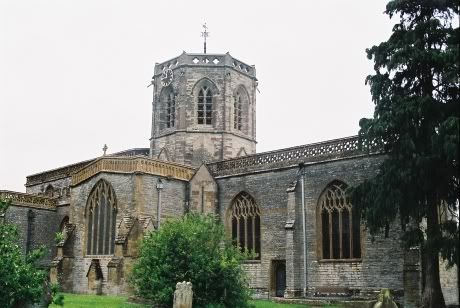 We went on to Devon. William Allen Hayes, of the Red Lion in Axbridge, had married Mary Barber Stooke, and she came from a family who had farmed in the Teign Valley for several generations, going back to 1548, and perhaps earlier. We turned off the highway to Dunchideock and Doddiscombesleigh, and the sun came out again as we drove down narrow country lanes with high banks and hedges, so one could see very little other than the narrow sunken lanes ahead. We saw nothing more of Dunchideock than a sign on a hedge, and Doddiscombesleigh seemed to be little more than the pub and the church. The pub was the Nobody, and I remembered someone on the British Genealogy newsgroup saying one could get a good meal there, but we'd just had a very adequate meal at North Curry, and so were not hungry enough. We went on to Ashton, where the Stooke family had lived. The church seemed much deader than the one in North Curry, and was locked. There was only one monument to the Stookes that we could find in the churchyard. We then went to Trusham, where Stookes had also lived, and the church was a bit better maintained, and there were several monuments to the Stooke family inside the church. We went on to Chudleigh, where my great great grandfather Thomas Stooke had been born, and parked outside the library, where some kids were skateboarding in the street. I tried to listen for their accents to hear what local accents sounded like, but everywhere we have been we have heard Estuary accents. We then drove through Bovey Tracey, where a Stooke had been minister in the Commonwealth period, and ejected at the Restoration of Charles II, after which he had started a Presbyterian meeting house in a barn.

We crossed Dartmoor, which looked a lot like the South African highveld. We drove up to the A30, and crossed Bodmin Moor and turned off to Blisland just past Jamaica Inn, and stayed at a bed and breakfast place at Trewint Farm near the hamlet of Waterloo. We drove in to Bodmin, and had supper at the Weavers bar in the middle of town. They had Cornish steaks on the menu, but no Cornish pasties, so we had ham omelets. And they too spoke with the ubiquitous Estuary accents. The town seemed noisy, with lots of small motor bikes running around.



Next morning (5 May) we set off to explore the Bodmin Moor villages where the ancestors had lived. We went first to Cardinham, where William Growden and Elizabeth Sandercock had married in 1792, and the first of their children were born. Just over the road was the village hall, where they were setting up the polling station for the general election. The grass in the churchyard was dewy, but we found a number of tombstones of Sandercock and related families, and took photos of them with the digital camera, and also of the interior of the church, where the pews were very ancient indeed, and it was quite a thought that ancestral bums had sat upon those seats more than two centuries before.



We went back to Bodmin, and saw the Growden family home at 3 Higher Bore Street, and also went to Scarlett's Well, where my great grandfather, William Matthew Growden, was born in 1851. The well was a holy well, reputed to have healing powers. Next to it was a cottage that could well have been where the family lived, because it was the only dwelling in the vicinity. Though there had been some modern additions, the basic house looked very old, and it also made sense of his occupation as a "woodman".

After having a look at the south coast, we drove through St Neot where other Growdens had lived, though we have not managed to find a link between them and our lot. We went past the Dozmary Pool, where King Arthur's sword was supposed to have been thrown after his death; it did not look much different from the much more recent Colliston Lake on the other side of the road. It was lunch time, and we went to Jamaica Inn nearby, but it looked too touristy, so we went to look at the parish of Temple, where another ancestor, Mary Ann Tilly, had come from. It was a tiny village, but there were lots of cars there, and at first we thought it was the entire population come to vote all at once, but then we saw strangely dressed people, looking like druids or something. They seemed to be coming up from the church, and it turned out to be a medieval wedding, as we spoke to some of the guests, some of whom were dressed as friars or knights in suits of armour. We later met some of the people who had been at the wedding in the pub at Blisland, and chatted to them.

It was interesting to visit these ancestral places, and to see where my family had come from. It was also interesting to discover which places had the most sense of "place". For me, those were North Curry church and its approaches, and Scarletts Well near Bodmin. I'd read about North Curry in guide books, in old topographical dictionaries and similar publications, and they made it sound rather dull and dreary. I was quite unprepared for the real thing, which was wild and other-worldly.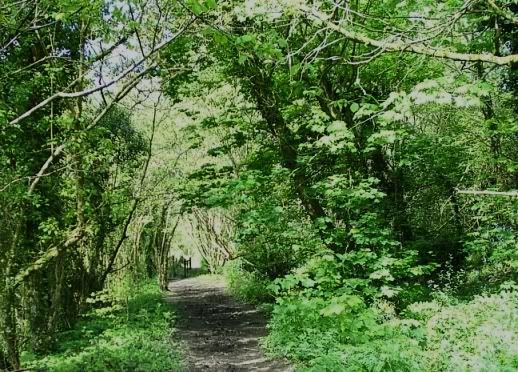 Scarletts Well, too, was an evocative place, not just because my great grandfather had lived there as a child, and it seemed a wonderful place for a child to grow up with the woods and the stream, but because it was a holy well, and it seemed right that it should be a holy well. In studying missiology I'd read about the early Christian missionaries in Cornwall, some of whom were reputed to have sailed across the Irish sea on millstones, and established themselves at existing holy wells or created new ones. It all seemed so long ago and far away. And then, 10 years ago, I interviewed a Tanzanian student at the Orthodox seminary in Nairobi, Kenya, to find how his parish had started. He said a priest from a place 8 km away knew a family in the village, and visited them occasionally. They had no water in the village, and women used to walk daily to a stream 5 km away to fetch water. One day when the priest was visiting the village he prayed, and a spring appeared. That had been 25 years previously, and the spring had never dried up. As a result, virtually the whole village had become Orthodox. It suddenly made those stories of 6th-century Cornish saints come alive. And there I was drinking water from Scarlett's Well, linked not merely to my great grandfather as a boy, but with spiritual ancestors many more generations further back.

On our holiday we travelled to Wales, to Cumberland, to Girvan in Scotland, and then back down the eastern side of England, and visited Holy Island. We saw many baeutiful and interesting places, including many where ancestors had lived, but none stood out quite as much as North Curry and Scarletts Well.