This last weekend has been a historic occasion for Orthodoxy in Southern Africa, with the first diocesan youth conference and the tonsuring of the first South African monk in South Africa by His Beatitude Theodoros, Pope and Patriarch of Alexandria.

The youth conference was arranged with the blessing of Archbishop Seraphim, and began began on Thursday 7 December, and we had been expecting about 20 people aged between 15 and 30, and got a whole lot of extras, most of them outside the age limits.

We slept at the site of the St Nektarius and St Nicholas monastery, though there are not actually any monks there. There is a farmhouse there, which had two small bedrooms (far too small for the extra people who came), and a larger room suitable for meetings. We slept on the carpeted floors.

On the Friday morning we had three real monks visit and tell us about the monastic life -- Father Pantelejmon from Black River monastery in Serbia, and Father Naum of Sopochani Monastery in Serbia, and Brother Matthew the novice, a South African who was soon to be tonsured as Monk Seraphim. The next speaker was Father Mircea, who spoke on confession, and, apparently as a result of this, nearly all those present went to confession on Saturday night.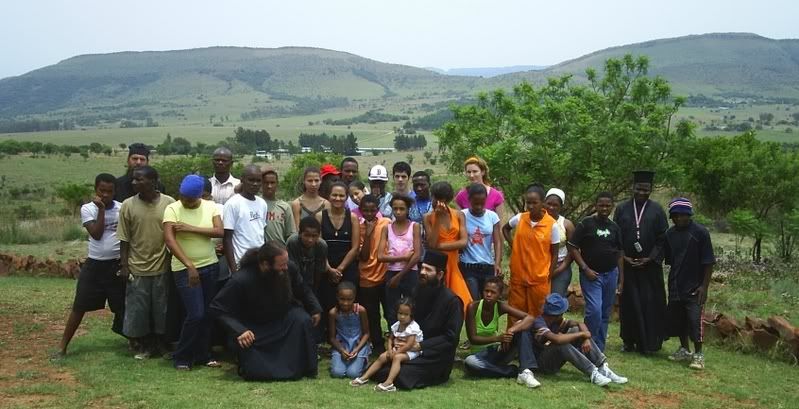 Members of the youth conference with monks Pantelejmon and Naum and novice Brother Matthew, in the beautiful surroundings of Leeuwenkloof, west of Pretoria

We structured the conference as a kind of mini-monastic experience, with the First, Third, Sixth and Ninth Hours read through the day, often by the young people at the conference. The Hours were mostly in English, though we used North Sotho, Zulu and Greek as well, to show the multicultural nature of Orthodoxy.

( Read more...Collapse )
On Sunday morning the Patriarch arrived again and in a long service there was the churching of one of the members of our Mamelodi youth group, Theodora Ramohlale, and the tonsuring of the novice Brother Matthew as Monk Seraphim, and his ordination to the diaconate by the Patriarch.
( Read more...Collapse )
We hope that there will be more youth conferences in future, and that more of the parishes in the Archdiocese will be represented in future. Perhaps from them there will be young people called to the ordained ministry and the monastic life.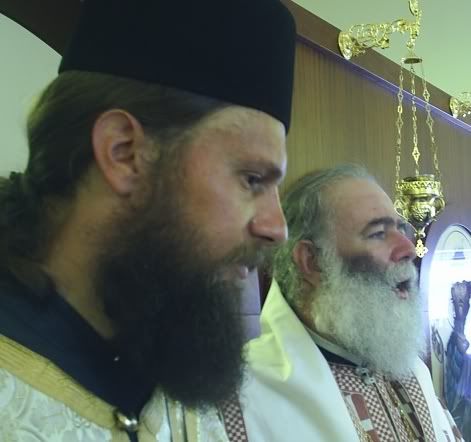 The newly-tonured Hierodeacon Seraphim with Pope Theodoros II

There have been Orthodox monks working in South Africa before, but they have usually worked alone as parish priests and have come from overseas. There have also been several South Africans who have gone overseas to join monasteries, but this has not led to a flourishing of the monastic life in South Africa; monasticism has remained an exotic plant. So the tonsuring of Hierodeacon Seraphim marks a new stage in the development of what we hope will be an indigenous Southern African monasticism.