This entry really belongs to last May, when we were on holiday in England and visited ancestral homes in the south-west of England. My father's father's family had come from Somerset and Devon, and my mother's father's family had come from Cornwall, and we spent five days in May visiting some of the places they had lived, and meeting living relatives.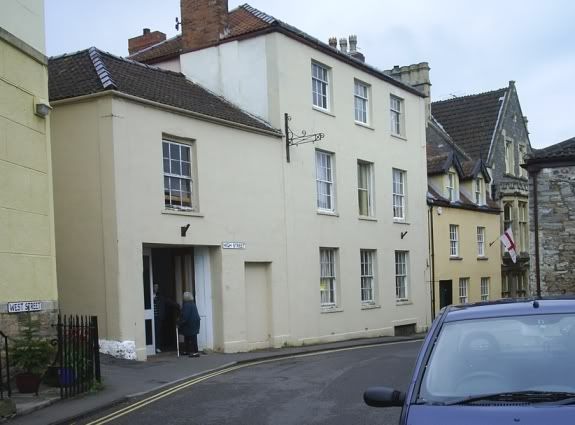 We took my second cousin Mary Jane Conway, who lives in Bristol, to Winscombe, Somerset, where our great great great grandparents Simon Hayes and Rachel Allen were married in 1814, and took photos of the church, and got copies of the parish magazine. The Church was quite a way from the centre of the village. We then went to Axbridge, not far away, to see where our great grandfather William Allen Hayes had spent the latter part of his life as landlord of the Red Lion pub, after retiring as a builder in Bedminster. My grandfather Percy had grown up in Axbridge before coming to South Africa in the 1890s.
The Red Lion is no longer a pub, but is now a private house. Nevertheless, cousin Jane, bold as brass, knocked on the door and asked if we could have a look inside. It is now owned by an American couple, David and Juliet Maclay. David's family were from Boston, and he does historical restorations, and he was restoring the building, and offered us a cup of tea and showed us the library he had built upstairs, which was very kind of him to do for absolute strangers. One of the most interesting things was a kind of icon of Ronald Reagan in what had been the bar. Reagan was making a speech, with Henry Kissinger and others floating round his head like demons to tempt him, and side panels showing American atrocities in various parts of the world.
We went to the square, and took some photos of the church, and a woman was coming to lock it just as we got there, but let us look at it. She said she locked it because she was the one who lived closest. We drove up the Cheddar Gorge, and then took Jane home.
The next morning we drove down the Cheddar Gorge from the top, and took a last look at Axbridge, There was a field full of Somerset sheep, which seemed fatter than the Merinos at home, and at the other side of the field there appeared to be two llamas lying down, but they were so far away we could not see them very well. We called at Wookey Hole, but did not go in to the caves. My wife Val's family had a tradition of calling the navel a "Wookey Hole", and it was close enough to Axbridge to suggest a sort of ancestral umbilical connection. But her family were from Cumberland, and so it's a bit of a mystery why they called a part of the body after a Somerset cave.
We drove through Glastonbury, and saw the Tor, which was not nearly as numinous and mysterious as it has been touted to be, and the whole place looked fairly ordinary and rather disappointing, after all we had read about it in novels, academic papers and the like.
(
Collapse
)