Yesterday we took a bunch of kids from St Athanasius Orthodox Christian School in Phomolong, Tembisa, to St Thomas's Serbian Orthodox Church in Sunninghill Park for Vespers and Litiya for St Sava's Day.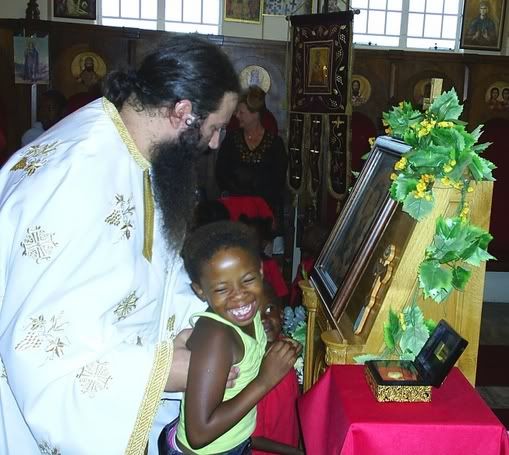 The mission congregation at Tembisa started a year ago, following the funeral of a priest, Fr Simon Thamaga, who lived there. Some of the neighbours, including some of the teachers at a local private school, came to the funeral, and were so impressed that they asked if they could join the Orthodox Church. Most of the children, however, had never seen the inside of an Orthodox Church before, and so before the service started, we gathered them outside, and explained how we make the sign of the cross, how we venerate the ikons and so on. Here Fr Pantelejmon, the Rector of St Thomas's Church, is helping one of the children to venerate the ikons.
There are more pictures, but those on dial-up connections may prefer not to see them. If you'd like to read more, click to the right here
(
Read more...
Collapse
)